News
Construction at Chute Park
Details

Published: Wednesday, 24 March 2021 09:24
At Chute Park, there has been work underway over the winter months to further improve the park. Yay!

As we come into spring, we ask that users please use caution at the park and respect signage of closed areas.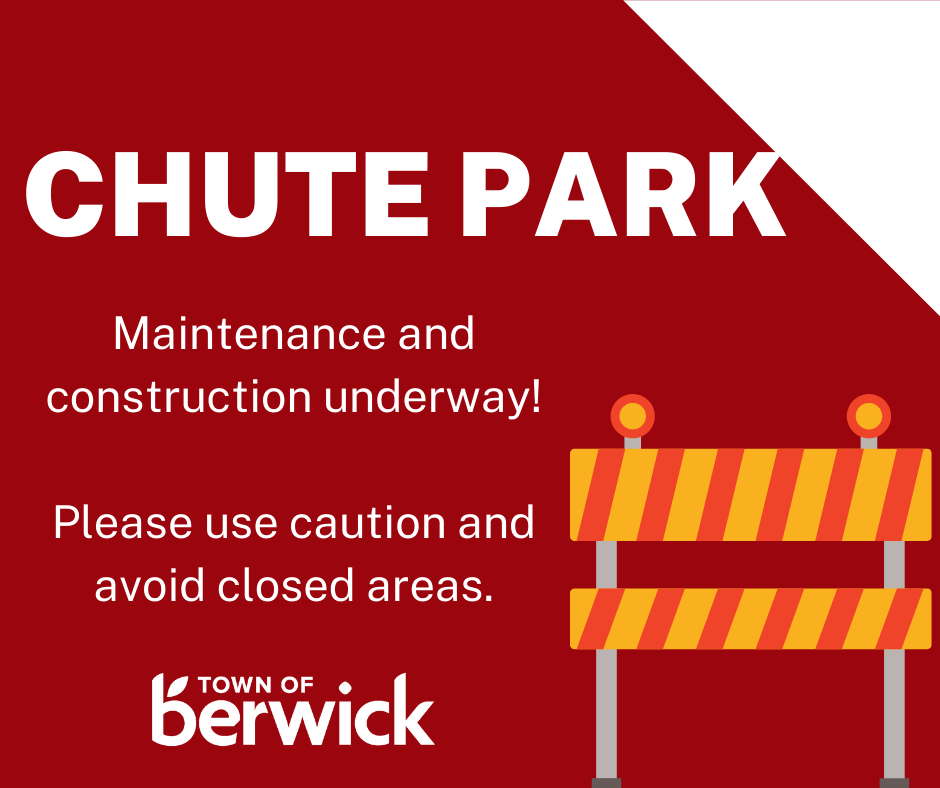 Accessibility Advisory Committee
Details

Published: Tuesday, 23 March 2021 11:40
Accessibility Advisory Committee
Join the committee!
Help the Town of Berwick in Their efforts to meet the provincial plan of -Access by Design 2030: Achieving an Accessible Nova Scotia Explore Standards and efforts within the town in the following areas:
- Built environment
- Education
- Employment
- Goods and services
- Information and communications
- Transportation
for more info on the application process or committee information
contact Brittany Brydon :902-538-8068 This email address is being protected from spambots. You need JavaScript enabled to view it.
Deadline to apply April 15 2021
Committees of Council - Call for Volunteers!
Details

Published: Tuesday, 23 March 2021 08:23
Committees of Council Positions
Do you know what's happening in your Town? Would you like to have input into what's being done? Volunteer! Get involved! The Town of Berwick regularly has openings for citizen appointees to committees and commissions. These include the following:
Audit
Community Development
Planning Advisory
Police Advisory
Berwick Electric Commission.
You must be a resident of the Town and have a broadly based interest in the subject of the committee. Commitments vary from one meeting a month to every two months. Orientation is provided.
For more information or an application contact Chantal Pineo-Atwood at 538-8068x4006 or This email address is being protected from spambots. You need JavaScript enabled to view it. Additional information is available at www.berwick.ca
The Town is committed to ensuring that membership on its committees reflects our community. We are actively seeking applications from racially visible persons, persons with disabilities, and members of other traditionally underrepresented groups.
Something big is "hopp"ening!
Details

Published: Monday, 22 March 2021 11:13
Outdoor Fires
Details

Published: Friday, 19 March 2021 13:37
As we head into the weekend, it's time for a reminder of the burning restrictions, and outdoor fires bylaw, in the Town of Berwick!


Under provincial regulations, the Department of Lands and Forestry advises Nova Scotians to consult their municipal bylaws prior to burning.
Be sure to know our local bylaws!
Budget Presentation
Details

Published: Friday, 12 March 2021 10:05
TOWN OF BERWICK
BUDGET PRESENTATION
Tuesday, March 23, 2021 at 6:30pm
Via Webex Virtual Meeting
If you would like to attend this online meeting
please contact Chantal Pineo at This email address is being protected from spambots. You need JavaScript enabled to view it.
or by phone at 902-538-8068x4006 by March 19, 2021