News
Berwick in the News - April 1, 2021
Details

Published: Thursday, 01 April 2021 11:11
From saltwire.com:

Berwick's town council has some tough calls to make with a date for setting the next round of tax rates on the horizon.
"Prior to fiscal year 2021, council had not approved a tax rate increase since fiscal year 2015, and, lowered tax rates twice since 2015," said chief administrative officer Michael Payne via email on March 25.
The town leaned heavily on its operating reserves to balance budget deficits during that period.
But times have changed.
Payne said the depleted reserve is now at a level that the Department of Municipal Affairs and Housing considers high risk.
"To balance the budget for fiscal 2021, council approved a number of cuts to expenses, including layoffs, but a tax rate increase was still required to balance the budget," he explained.
"For fiscal 2022, staff can't find any more expenses to cut while still maintaining service levels to residents, so slight tax rate increases are required to balance the budget, with the ultimate goal of any surplus going back into the operating reserve."
Full article:
https://www.saltwire.com/nova-scotia/communities/berwick-council-advised-to-consider-slight-tax-increases-to-replenish-reserve-funds-100571144/
2021 Sports Hall of Fame
Details

Published: Wednesday, 24 March 2021 11:59
🏆 The
Town of Berwick
Sports
Hall
of Fame Committee is accepting nominations for induction for the 2021 Sports Hall of Fame 🏆
Here's what you need to know: ⤵️
All nominations stand for a period of five (5) years with re-nomination.
No more than six (6) individuals/teams shall be elected annually, from all categories. (Does not need to be six (6) each year).
Each nomination should include as much information as possible together with photographs and other memorabilia that may assist the Selection Committee.
Athletes must be retired from active competition for a period of five (5) years. There is no time restriction on builder nominations.
If a candidate is elected, induction will take place at the Annual Awards Night on September 25, 2021 at The Berwick Lions Hall in the Kings Mutual Century Centre.
As deemed necessary by the Induction Committee, a special category may be included.
The form can be found online here: SHOFNOMINATIONFORM2021.pdf

By email:
This email address is being protected from spambots. You need JavaScript enabled to view it.
Or by contacting members of the Sports Hall of Fame Committee
Construction at Chute Park
Details

Published: Wednesday, 24 March 2021 09:24
At Chute Park, there has been work underway over the winter months to further improve the park. Yay!

As we come into spring, we ask that users please use caution at the park and respect signage of closed areas.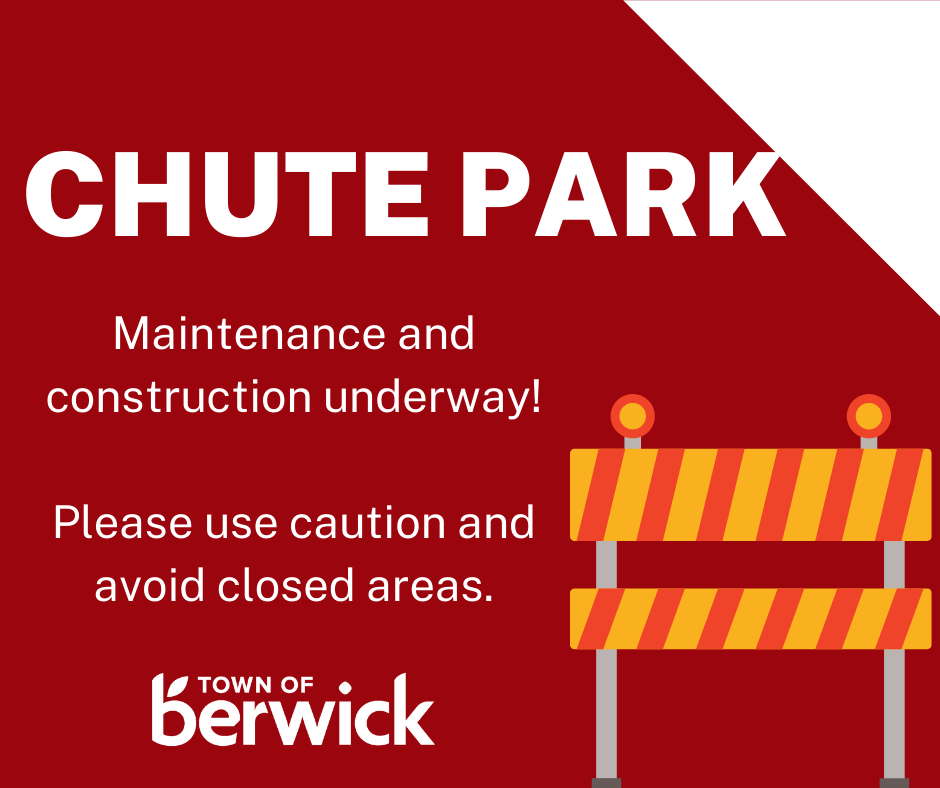 Accessibility Advisory Committee
Details

Published: Tuesday, 23 March 2021 11:40
Accessibility Advisory Committee
Join the committee!
Help the Town of Berwick in Their efforts to meet the provincial plan of -Access by Design 2030: Achieving an Accessible Nova Scotia Explore Standards and efforts within the town in the following areas:
- Built environment
- Education
- Employment
- Goods and services
- Information and communications
- Transportation
for more info on the application process or committee information
contact Brittany Brydon :902-538-8068 This email address is being protected from spambots. You need JavaScript enabled to view it.
Deadline to apply April 15 2021
Committees of Council - Call for Volunteers!
Details

Published: Tuesday, 23 March 2021 08:23
Committees of Council Positions
Do you know what's happening in your Town? Would you like to have input into what's being done? Volunteer! Get involved! The Town of Berwick regularly has openings for citizen appointees to committees and commissions. These include the following:
Audit
Community Development
Planning Advisory
Police Advisory
Berwick Electric Commission.
You must be a resident of the Town and have a broadly based interest in the subject of the committee. Commitments vary from one meeting a month to every two months. Orientation is provided.
For more information or an application contact Chantal Pineo-Atwood at 538-8068x4006 or This email address is being protected from spambots. You need JavaScript enabled to view it. Additional information is available at www.berwick.ca
The Town is committed to ensuring that membership on its committees reflects our community. We are actively seeking applications from racially visible persons, persons with disabilities, and members of other traditionally underrepresented groups.
Something big is "hopp"ening!
Details

Published: Monday, 22 March 2021 11:13